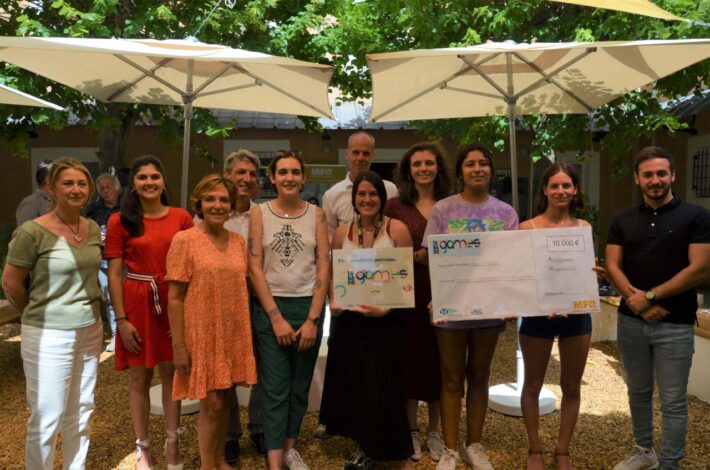 MFR of Puyloubier Team
It is with great pleasure that we announce the succes of Rural Family Home of Puyloubier (MFR of Puyloubier) which won the TABADO Games 2021-2022!
The TABADO Games are a national competition that mobilises different actors and creates an emulation around the TABADO programme and the opportunity to win prizes in the sports universe!
By participating in the different stages of the programme (detailed below), students score points for their school. At the end of the TABADO Games, a ranking is established: a winning school per region and a national winner are designated. This year, the MFR of Puyloubier, from PACA, is the national champion!
Financed by the combatting addiction Funds and supported by the National Cancer Institute (INCa) at national level, TABADO is coordinated in the PACA region by the OncoAge University Hospital Federation and led by the Nice University Hospital Centre since 2019.
TABADO is a programme helping to prevent and reduce tobacco use among young people by proposing personalised support directly at their school. It involves, in each partner establishment, prevention facilitators and health professionals. Trained in tobacco addiction, they are authorised to prescribe nicotine replacement therapies to the young people registered.
The aim of TABADO is to identify and prevent smoking rather than treat it, and it introduces a shift from an individual issue to collective support. Marked by its desire to mobilise all actors of the project by using the codes of the sporting world, the project is built around three key stages:
An initial information session to present the effects of smoking and its consequences on health, to motivate and recruit smokers to follow the programme with the aim of stopping smoking but also to inform students of the "TABADO Games".
Individual consultations led by a health professional trained in tobacco addiction with the aim of making a personalised diagnosis of the subject's smoking, proposing an adapted withdrawal and possibly delivering a free nicotine substitute treatment (TSN).
Motivational workshops for 5 to 10 peoples, allowing a real follow-up of the students, but also to reinforce motivation and support the cessation in order to prevent relapses (supportive psychotherapy).
TABADO has been proven to double the number of smokers quitting. Early intervention on addiction is effective in reducing health risks. Its ambition is to protect young people as a priority and to fight against social inequalities.