FHU-OncoAge brings together clinical and research teams of the University Hospitals (CHU) of Nice and Lyon, the Comprehensive Cancer Center Antoine Lacassagne (CLCC CAL), the Children's Hospital Fondation Lenval, the members of Aviesan and the University of Côte d'Azur (UCA). This initiative is joined by physicians and scientists from the Comprehensive Cancer Center Léon Bérard (Lyon) and Institute Gustave Roussy (Villejuif), the Institut for Research on Cancer and Ageing,
Nice (IRCAN), the Institut of Molecular and Cellular Pharmacology (IMCP) at Sophia Antipolis, the Institut of Development Biology (IBV), the Research Center C3M, the Centre National de la Recherche Scientifique (CNRS), the LP2M (CNRS), the Institut National de la Santé et de la Recherche Médicale (INSERM), The Institut National de Recherche en informatique et en Automatique (INRIA), the Department of Mathematical Sciences of Nice University, and the Commissariat à l'Energie Atomique et aux Energies Alternatives (CEA).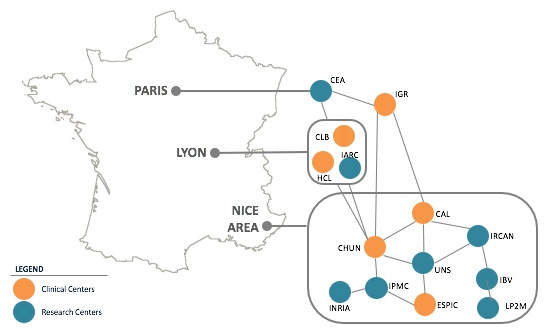 Our multidisciplinary team includes geneticists, biologists, pathologists, paediatricians, organ specialists, physicians, surgeons, psychiatrists, psychologists specialised in cognition, mathematicians, bioinformaticians.
How to contribute ?
Any help is welcome to launch this ambitious project.