2021 IEEE ISBI
AI-BASED APPROACHES TO BIOMEDICAL IMAGE ANALYSIS IN CANCER
Virtual Format : April 13th, 14:00 – 18:15 (CET)
The IEEE International Symposium on Biomedical Imaging (ISBI) is a scientific conference dedicated to mathematical, algorithmic, and computational aspects of biological and biomedical imaging.
The 2021 IEEE ISBI will be fully virtual and will include a Clinical Day on April 13 th, 2021 afternoon from 14:00 to 18:15 (CET). This symposium will feature recent developments in AI BASED APPROACHES TO BIOMEDICAL IMAGE ANALYSIS IN CANCER.
ISBI Clinical Day program includes presentations and a panel discussion among imaging scientists, clinicians, experimental researchers, and industry to foster multi disciplinary interactions.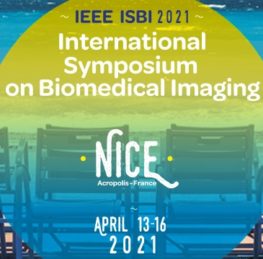 TOPICS:
Machine learning and MRI
Functional imaging, radiomics and big data
Multiplex immunofluorescence imaging of the tumor microenvironment
Integrating omics data with digital pathology
Predicting and understanding tumor progression and treatment response
CONFIRMED SPEAKERS :
Thomas C Booth, UK
Christos Davatzikos , USA
Laure Fournier, France
Matt Humphries, UK
Anant Madabhushi , USA
Yinyin Yuan, UK